For Singapore, radio-based CBTC - World Update - Singapore Land Transport Authority to use continuous, bidirectional radio-transmission-based communications-based train control
When it opens in December 2002 or January 2003, Singapore Land Transport Authority's new 14-mile, 16-station NorthEast Line will be the world's first rail transit system operating with continuous, bidirectional radio-transmission-based CBTG (communications-based train control). Aistom Transport Information Solution's URBALIS[TM] 300 technology will provide moving-block train control, fully-automated (driverless) operation with platform screen doors, 90-second headways, and a 60 mph top speed.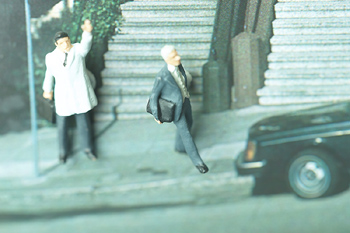 ATC (automatic train control) is provided by Alstom's MASTRIA" technology. Conventional track circuits provide fallback for CBTC as well as broken rail detection. There are multiple fallback modes ranging from automatic operation at reduced speed to full manual. System intelligence is split between onboard and wayside, with the right-of-way divided into nine zones, each with a controller. Central office functions are provided by Thales (a SYSECA subsidiary), with field backup systems supplied by Aistom. Alstom also supplied the rolling stock, which is configured as six-car sets with 2,000-person capacity (including standees), as well as SMART-LOGK[TM] interlockings.
The communications backbone of the CBTG system is Aistom's TAGO'" spread-spectrum (2.4 GHz ISM2 band) radio technology. Singapore's version utilizes "leaky wave-guide," an extruded aluminum tube with slots every 6 cm that function as mini-antennas (photo, lower right). The waveguide antennas communicate with carborne antennas and computers. The tube, which is sealed with thin-film composites that provide protection from the environment, "provides well-defined radio propogation," according to Alstom Transport Director CBTC Systems Naor Wallach. It can be installed anywhere- between the rails, on tunnel walls, or outside of the track gauge on the ground, as in Singapore's case. Four waveguide structures communicate with one transceiver. The IAGO[TM] system can also be configured as wayside radios with an antenna array.
Alstom Transport describes URBALIS[TM] 300 as its "base CBTC system for worldwide deployment." It is being modified for Alstom's MTA New York City Transit "Follower" CBTC contract, as it must be interoperable with the Siemens technology NYCT selected for the "Leader" contract as well as with that of Alcatel, the other Follower supplier.