The Transport Union's newly-elected head doesn't have serpentine political skills and doesn't care: he's "blunt and in your face" - Tony Woodley - Biography
The latest recruit to the TUC's "awkward squad" of Left-wing trade union leaders is Tony Woodley, who was elected general secretary of the Transport and General Workers' Union on 31 May. His election was hailed by the left-wing Campaign Group of MPs as proof that no one tarred with Tony Blair's support can ever win a trade union election these days. That is certainly true, but we knew it already. Woodley's principal opponent, Jack Dromey, has known for months that if he could not get rid of the Blairite tag that was rather unfairly attached to him, the election was lost.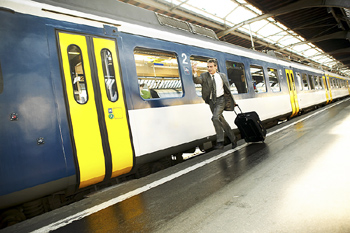 Woodley's election tells us, more than any other recent event, about the state of the trade unions and the Labour Party, and especially about the TGWU -- which right up to 1979, when Jack Jones retired, was the labour movement's heavy artillery, and which has been in slow decline ever since.
Union-watchers are used to TGWU elections leaving bad feeling in their wake. The past two leadership elections -- both won by Bill Morris -- were marked by charge and counter-charge and left the two camps barely able to take each other by the hand, unless it was a preliminary to taking each other by the throat. But this time a national official told me: "I don't know anyone who has a bad word to say about Tony Woodley."
National officials might be expected to say that -- except that this was Chris Kaufman, campaign manager for Jack Dromey. Woodley, says Dromey, is "an able colleague and a good friend". And what Dromey is thinking about, while on a brief escape to Ireland to lick his wounds, is whether to stand for election as Woodley's deputy.
That Woodley and Dromey were the top two candidates was a triumph of sorts. It marked a tangible break from the unions recent past. The candidate of the regional secretaries -- who have traditionally called the shots in the TGWU -- came a lame third. And Bill Morris's own candidate came last. This was a vote for change, just as Woodley wanted it to be. It was as much a vote against Morris as it was a vote against Blair.
Woodley is from Liverpool, like Jack Jones. And like Jones, he wants to see a fundamental shift in where the union's efforts go. He thinks the union has become too bureaucratic, too interested in playing politics with ministers (Bill Morris has become Gordon Brown's chief trade union cheerleader). "I want to refocus our time, money and effort on the workplace, and away from administration," he says.
Trade unionism is in Woodley's blood, as it was in Jones's. His father, George, was a union convener at Vauxhall Motors, and the proudest moment of Woodley's life was when he, too, became a convener in 1980. "If I had an ambition, it was to do what my dad did," he told me.
As a child, he failed the eleven-plus; at 15, he left school and went to sea with the Ocean Steam Ship Company. Anything he had not learnt about socialism and hardship from his father, he learnt as he travelled the world for the next four years. "In Malaysia, I saw mothers hawking their young children on the streets for prostitution. In Colombo, there were disabled beggars by the dozen... The sheer deprivation, poverty and desperation of many people profoundly affected my view of the inequality and unfairness of life."
In 1967, aged 19, he went to work at Vauxhall in Ellesmere Port, where his father was the full-time union convener for the National Union of Vehicle Builders. By 1980, Tony was the convener, and in 1989, after the Vehicle Builders had merged into the TGWU, he became a full-time official in the Birkenhead office. In 1991, he rose to national prominence as the national officer of the TGWU's vehicle builders' group.
The outside world first heard of Woodley in 2000, when BMW unexpectedly announced that it would hand over the Rover car plant at Longbridge, near Birmingham, to the venture capitalists Alchemy. Most people, including Woodley, believed Alchemy was engaged in an asset-stripping operation that would cost the lobs of thousands of union members. It was Woodley who put together the life-saving package, and made the vital telephone call that persuaded the former Rover chief executive John Towers to lead the Phoenix rescue consortium, giving it the credibility it needed. It was a long haul, all done in the face of media and government scepticism. It also meant Woodley had to defy his own union leaders.
"He was under enormous pressure to take an easy and acceptable way out, let Rover go to the wall and let Alchemy take over," says Len McCluskey, the fellow official who ran Woodley's campaign for general secretary. "Bill Morris also put him under pressure to do this, to the point of Tony's job being on the line. But he saved 10,000 jobs at Rover and about 50,000 knock-on jobs in components and local community services."
Last year, he stood for deputy general secretary. "I was the candidate of change," he says, and he beat Morris's candidate handsomely. He was supported by Dromey, whose friends now muse that they may have laid the ground for their man's defeat by the enthusiasm with which they supported Woodley a year ago.
Woodley, 55, lives in Ellesmere Port with his wife, Janet, and their 12-year-old son, Christopher. When he first came to London, he tried bringing the family with him, but it did not work well. For the past ten years, he has shared a London flat during the week with another union official. But now "Christopher's getting to a stage where he wants his dad", and he and Janet may join Tony in London.
A few colleagues wonder whether he has the serpentine skills required to deal with new Labour ministers. In the run-up to the Iraq war, they say, he was associated with the call for Blair's resignation, a call that is thought to have helped Blair to keep the parliamentary rebellion smaller than it might have been. There is a vacancy for a head of communications, and they wonder aloud whether he will appoint Andrew Murray, chairman of the Stop the War Coalition and a former TGWU press officer.
Woodley doesn't have serpentine skills and doesn't care. He describes himself, accurately, as "blunt and in your face". Supporters and opponents alike say that with Woodley, "what you see is what you get". The close rapport between the general secretary's office and that of the Chancellor of the Exchequer may be about to end. Ask about the record of the Labour government, and the words come out of him with unstoppable passion: "For the first time ever under a Labour government, the gap between the rich and poor is widening. After seven years of Labour government, 2,400 people can be told by text message that they've lost their jobs, and there's nothing in the law to stop it. The minimum wage is at a poverty level and under-18s aren't even entitled to that. They listen to business and lose their core support -- the downfall of the unions would mean the downfall of the Labour Party, and the trade unions have been too busy looking at politics instead of their priorities in the workplace. Big business has been al lowed to steal [pounds sterling]18bn of pension surpluses, and now they are whingeing about final pension schemes. And my dad is 80, he's a Second World War veteran, an ex-convener, and he's expected to live on [pounds sterling]77.90 a week. Why do the trade union laws not allow sensible trade unions to fight back? Because the Labour government listens too much to business.
It's not hard to see why the right sees Woodley as a throwback. But he is not, as Longbridge showed. He is a modern, flexible sort of negotiator. The awkward squad has acquired a powerful new member, and it will grow with every union leadership election.
But the awkward squad is divided between those such as Amicus's Derek Simpson who think the Labour Party needs renewal, and those such as the RMT's Bob Crow who think it is irrelevant. Woodley stands firmly in the renewal camp. That, ministers might reflect, is the best they will get out of any trade union election these days. They should consider listening to Woodley, and taking seriously their need for his union's money and its members' support. Otherwise, the next one may be less moderate.